Our service intends to provide you with high-quality historical data
The data service aims to help traders to test their automatic trading strategies on the reliable Forex historical data. The quality of our data is one of the best among Forex data sources. And the price of our data is really fair.
As you probably know the backtesting is a very good and fast to get an idea about the performance of a trading strategy. Backtesting gives you a chance to test the strategy much faster than you can do it on a demo account. But it is very important to have a reliable source of historical data. If you test the strategy on data which are not consistent then your testing results can became wrong. Below you can see a list of generic problems which arise when you use historical data of low quality:
Issue "Holes" in data. For example if you export data from MetaTrader 4 platform then you can notice that there are "spaces" in quots so you do not actually know what prices were on market during that periods of time and such periods are actually excluded from your testing. Data which are exported from MT4 have ~10% of "holes" you can check that by yourself. Just try exporting 1-minute data from MetaTrader and check how many bars are there. There should be 60*24=1440 minute bars per day but you will see smaller number of bars.
Answer: Our data are provided in a good quality and the number of holes is minimal and almost all these holes appeared due to broker's server downtime so this is how it was in real trading.

---

Issue A lack of good data for specific broker. Different brokers provide different quots (you can see that if you install 2 MT4 platforms of 2 brokers on your computer) so if you wish to get the best testing results then it is much better to test your strategies on the data which are specific to your broker (see the screenshot below). Or it can be useful to try quots of different brokers to choose the best broker for you.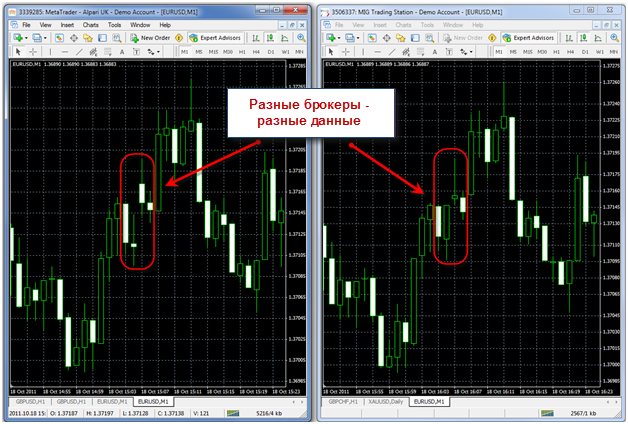 Answer: We have historical data from 9 brokers so you have a chance to test your strategy on different quots of the same time period.

---

Issue A lack of tick data. This is quite important especially if you are testing a short-term strategy which is sensitive to the small price movements (for example you wish to test a scalping strategy). In this case every price movement within 1-minute candle can influence on your strategy.
Answer: We have tick-by-tick data so you will be able to test your strategy on every small price change in historical data like you do it in real time.

---

Issue Also there is no built-in mechanism in MetaTrader 4 which allows importing tick data.
Answer: We have a program which will help you to import tick data into your MT4 platform

---

Issue A lack of spread data. A lot of brokers have floating spread so the spread can make serious impact on your trading. If you test the strategy on historical data which do not contain spread data then you can get wrong results on some parts of data (for example when news was published).
Answer: Our tick data contain Ask and Bid prices so you will get exactly the same price behavior on your charts and the testing results will be much closer to the real market
Please review the table below. Here we show advantages of our data in comparison with standard MetaTrader 4 data:
| | | |
| --- | --- | --- |
| Characteristic | Data which are downloaded from our service | Data which are exported from MetaTrader 4 terminalр |
| The number of "holes" in data | Almost no "holes" | A lot of "holes" |
| Availability of one-minute data | Yes | Yes |
| Availability of tick data | Yes | No |
| Availability of spread data | Yes | No |
| Broker-specific data | Yes (data for 9 brokers) | Yes |
Advantages of our data service in comparison with other data sources:
Quality and reliability of data. Our historical data are exactly same with data which you saw on your screen in the past.
You can review the quality of data that by downloading these samples: contact us.


2) High precision of data:

a. 5-digits data
b. Tick data
c. Floating spread



Convenience. We will provide you with a program which allows importing data directly into your MT4 terminal. So you do not have to import data manually, the program will do all "dirty work" for you


Our data service saves your time. You do not have to search for data in the web, you do not have to download/unzip/import files so you can spend your time on things which are more important.


We're up to date. Our database is updated every day so you can download "yesterday's" data.


6) A lot of data, we have quots for more than 30 trading instruments and 9 brokers. See details on this page.